If you need sod and don't know where to start, turn to the Park Avenue Sod Farm. We can help you get started with the measuring and ordering tips below.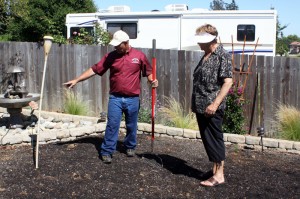 Measuring for Sod
To get started now, measure your yard and subtract your house dimensions and other areas not to be sodded. Area equals length times width. Whatever is left over is the amount you should order in square feet. It is not wise to cut corners. Give yourself a generous surplus for patching and extras.
Circle, 1/2 Circle, 1/4 Circle

To figure the area of a circle, take the radius times the radius, then multiply by 3.14. Radius is a straight line from the center of a circle to the outside of the circle.
(Radius x Radius) x 3.14 = Area
6 x 6 = 36 x 3.14 = 113 sq.ft.
Half Circle divide by 2
6 x 6 = 36 x 3.14 = 113 / 2 = 56.5 sq.ft.
Quarter Circle divide by 4
6 x 6 = 36 x 3.14 = 113 / 4 = 28.25 sq.ft.
DELIVERY AND INSTALLATION AVAILABLE – NO PROJECT TOO BIG OR SMALL!
Ordering Sod
Call at least 24 hours before you want to lay the sod. We can give you better service toward the first of the week since we have a lot of weekend customers.
You tell us…
1. The amount of sod you need in square feet.
2. The date you want delivery or pick up.
3. The address where sod is to be delivered.
WE CAN MAKE NO CHANGES TO SOD ORDERS ON DELIVERY DAY BECAUSE THE SOD IS ALREADY CUT.
Our sod prices are really down to earth!
Place your sod order today and have your sod delivered tomorrow.